Cow stuck in a tree after Hurricane Ida saved by a rescue team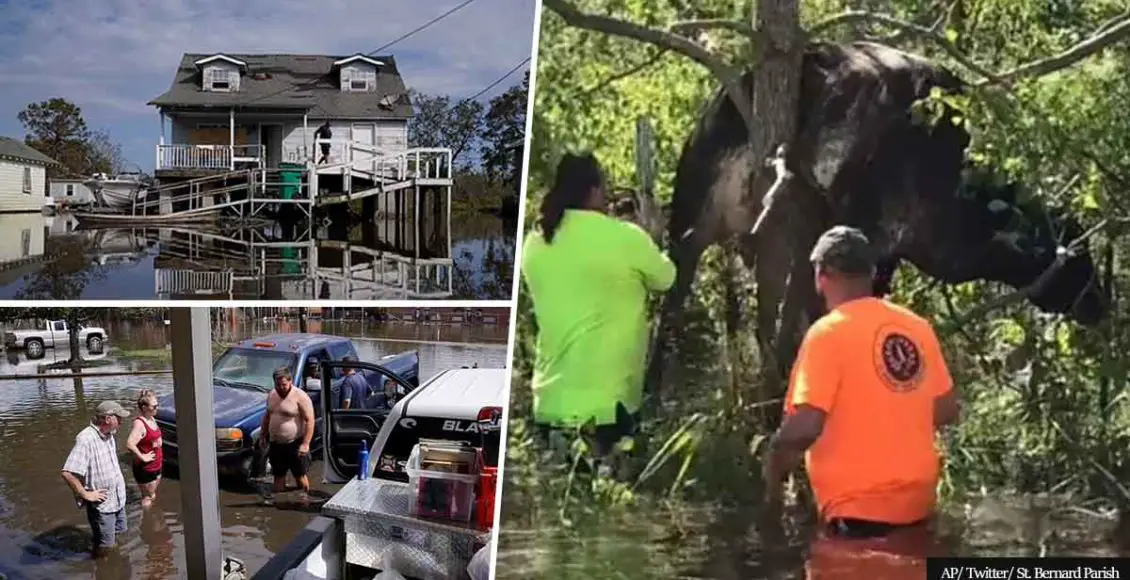 A New Orleans team rescued a cow stuck in a tree following Hurricane Ida. 
Hurricane Ida formed on August 26, causing severe damage across the U.S. 
A rescue team from New Orleans saved a cow that had gotten stuck in a tree amid the storm. 
The hurricane just hit New York and New Jersey, causing massive floods. 
Hurricane Ida, which developed on August 26, has been described by some New Orleans residents as "the worst they've ever seen." In Louisiana, the massive tropical cyclone has caused severe damage, including destroyed roofs and building collapses.
Grand Isle in Jefferson Parish is uninhabitable after Hurricane #Ida pic.twitter.com/suBRfh0gKK

— Parish President Cynthia Lee Sheng (@CynthiaLeeSheng) September 2, 2021
Animals in the region were also affected. As Daily Mail reports, on Tuesday morning, a rescue team was captured on camera helping a cow that got stuck in a tree amid the storm. The scene took place near Florissant, days after Ida made landfall as a Category 4 storm, pummeling Louisiana with heavy winds of 150 mph and torrential downpours that led to devastating floods.
In the footage, the animal can be seen struggling to move as two workers carefully use a chainsaw to trim branches off the tree it had gotten trapped in.
Fortunately, as per CNN, the cow was saved and is back on its feet. However, due to the high level of destruction caused by Hurricane Ida, at least 60 other heifers had to be rescued from New Orleans' Plaquemines Parish.
Louis Pomes and Parish Government employees, Tyler Acosta, David Palmer and Roy Ragan, Sr. rescue a #cow wedged in a tree in Florissant following #Hurricane #Ida . pic.twitter.com/XG8e8iRXAp

— St. Bernard Parish (@StBGov) September 1, 2021
Following the catastrophic tropical cyclone, 650,000 people were left without access to clean water and more than a million without electricity. 
According to energy suppliers in the area, it would take at least three weeks for power to be restored.
Furthermore, on Monday, August 30, Dr. Joel N. Myers from Accuweather said that the total economic damage caused by Ida will likely fall between $70billion and $80billion. But the real loss remains the people who have lost their lives in the storm. Reportedly, 7 Louisiana residents have been killed during or as a result of the horrific hurricane.
Drone footage shows flooding and wind damage in LaPlace, Louisiana, after Hurricane Ida pounded the community nestled between the Mississippi River and Lake Pontchartrain. https://t.co/YHyy13o141 pic.twitter.com/JvXcm1FEiI

— ABC News (@ABC) August 31, 2021
Eli Nathaniel Babb and Layton River Ellison, both 19, who worked with Pike Electric, were fatally electrocuted while helping to restore power in Alabama.
On Monday, a Louisiana man, 60, died after a tree fell on him in Prairieville. Another person died while attempting to drive his vehicle through the flooded streets of New Orleans.
Terrifyingly, a man in Louisiana was eaten by an alligator while wading through waist-deep floodwater in a shed outside his home. Another two were killed after seven vehicles plunged into a 20-foot-deep hole near Lucedale, Mississippi, where a highway had collapsed after torrential rains.
One of the crash victims was Kent Brown, a 49-year-old father-of-two. Brown's brother, Keith, said he was in construction but had been out of work for a while. He had no clue where his brother was headed at the time of the crash.
According to Louisiana Gov. John Bel Edwards, the death toll would most probably increase. 
The governor commented:
"We have a lot of work ahead of us and no one is under the illusion that this is going to be a short process."
Hurricane Ida was the fifth-strongest hurricane to ever strike the U.S. It is now considered a tropical depression, following the harrowing floods and building collapses it has caused.
New York and New Jersey, which have been just hit by the hurricane, have already declared states of emergency.
really bad flooding on queens blvd and broadway in elmhurst 😬 pic.twitter.com/TGJrmiHHX6

— victoria (@mamastringbeans) September 2, 2021