This coffee shop is run by people with Down syndrome!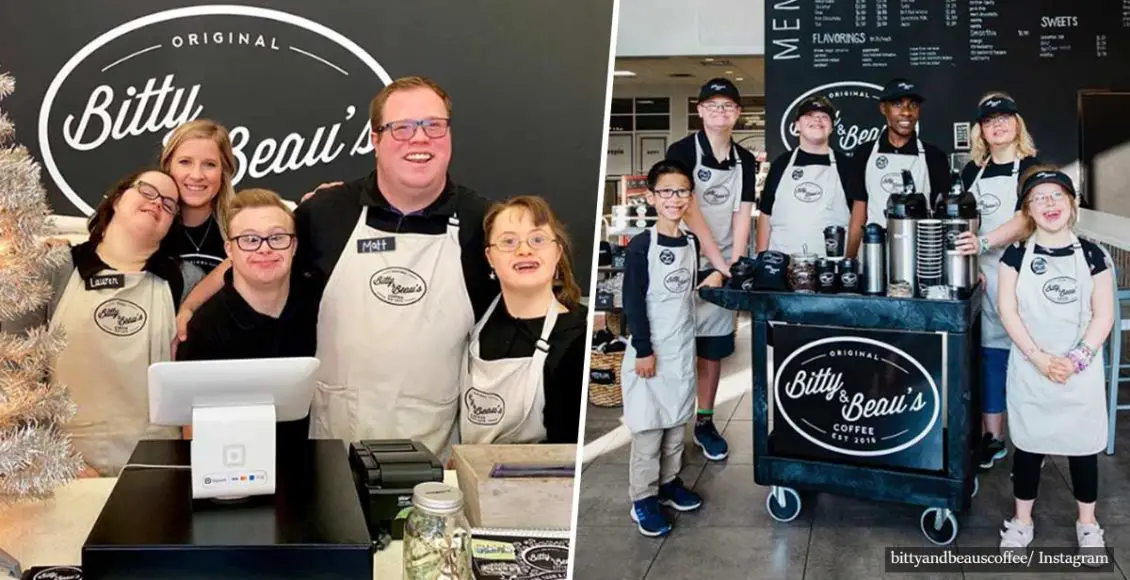 Have you heard of Bitty & Beau's Coffee shop? Here is their uplifting story!
Bitty and Beau are two beautiful children born with Down syndrome.
Their mother, Amy Wright, was inspired by them to change the world for the better.
Amy was aware that many people with different intellectual and developmental disabilities have a hard time being employed. So, she had a simple, yet game-changing idea. She opened a coffee shop named after her children, run by people with disabilities.
Bitty & Beau's Coffee shop opened it's first location in January 2016, in Wilmington, N.C. Initially, it was named Beau's Coffee, but Amy's son Beau's 12th birthday wish was to have his little sister's name, Bitty, put up in lights too. It all began with one amazing idea and 19 enthusiastic employees. Some of them were excited to share that it was their first job, as no one else would employ them because of their disabilities.
Now, Bitty & Beau's Coffee has four locations, and Amy is determined to open a few more across the country.
For her "It's more than a cup of coffee". It's an outstanding experience that creates a path for people with disabilities to become more valued, appreciated, and integrated in society.
Amy Wright's incredible lifework was best recognized in 2017 when she won the CNN Hero of the Year award. It also included $100,000 toward her cause. The message she sent to her children by winning this admirable title was truly inspiring. In her speech, she said:
"I would not change you for the world, but I will change the world for you."
Currently, the coffee shop employs 80 people with different disabilities.
Each of them is grateful for the generosity and kindness they have been shown there.
In fact, many of the employees at Bitty & Beau's Coffee share that the job there not only gives them confidence, but it also makes them happy and promotes their personal growth. Overall, the positive energy in any of the coffee shops is absolutely contagious.
"Bitty & Beau's Coffee creates a culture where diversity is not just appreciated, it's celebrated."