Researchers Conclude: Cats Are Jerks!!!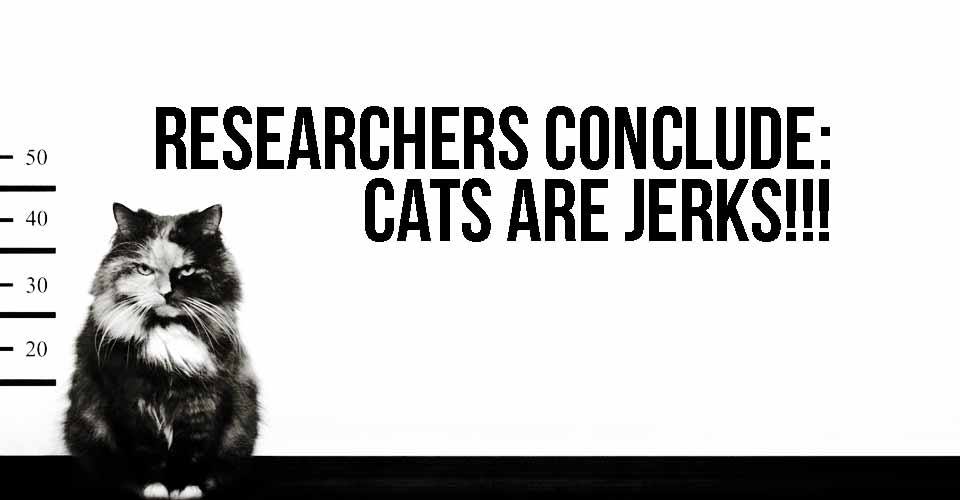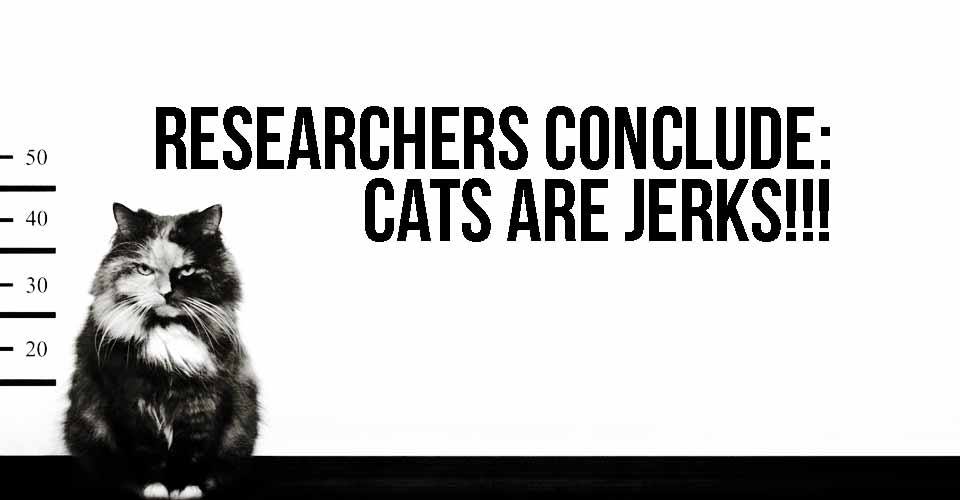 Typically there are either cat people or dog people. Dogs are known for their unconditional love, but let's face it: your cat doesn't care if you live or die, as long as they get fed. Terrifying side note: sometimes that's the same thing. Now before you write me off as a cat-hater, I'd like to point out that science has proven that your cat is basically just an asshole.
Buy an "Intelligence is sexy" t-shirt!
1: Your Cat Doesn't Love You Back
In research done by the University of Lincoln in the U.K., it was determined that cats simply don't love their owners back in the same way that dogs do. The theory is based on the evolutionary path that dogs and cats took in conjunction with human evolution. Man's domestication of dogs dates back as far as 32,000 years ago. Cats have only been tolerating human presence for about 9,000 years, and that is simply because they were scavengers. They fed on the waste humans left behind, and the vermin they attracted.
To take that principle even further, consider that humans bred dogs selectively to cultivate certain good traits. Humans chose dogs for a purpose, whether it was herding and protecting livestock, hunting, or protection from other predators. Cats chose to hang around people as an easy source of food. Not quite the same bonding experience.
Maybe the Crazy Cat Lady Isn't So Crazy?
2: Your Cat Poops on the Floor Because it Thinks You are a Loser
Cat people always rave about the cleanliness of cats. Case in point: try to train a puppy to use a litter box. You might as well be training the puppy to do your taxes. The reason cats bury their poop is because it is an instinctual left-over from their pre-domesticated days when the tactic of burying poop was a way to avoid conflict with alpha felines in their area. So, if you cat poops on the floor, it's to show you that they are the boss and that you can't do anything about it. If you think I'm kidding, next time your cat poops on the floor, and you are cleaning it up, see if your cat doesn't watch you do it with a smug look on its face.
3: Your Cat Doesn't Care if you Stay or Go
Professor Daniel Mills of Lincoln University staged a modified version of the "Strange Situation" experiment that Mary Ainsworth used to prove the existence of a bond between children and their parents. Basically in that experiment strangers and parents entered a room intermittently with the child, and the child's response was recorded. Now, I point out that specific detail, because when Mills did the test with dogs, the result was almost identical to that of children. When the experiment was done with cats, cats tended to ignore their owners entirely, and sometimes were more likely to approach strangers.
4: Your Cat has Ulterior Motives Behind Those "Displays of Affection"
When your cat is purring and rubbing on your legs, you probably assume that your furry friend is happy to see you and is showing its love. Nope. It's showing you that it owns you. Cats are crazy about marking their territory, and use pheromone-laden scent glands to tell other cats everything from sexual availability (theirs, not yours), and most importantly: ownership. Where are those scent glands located? The face, side of the body, and tail. All your furry feline companion is doing is alerting other cats that you are the sole property of your feline companion.
Even the purring can be sinister. In 2009, researchers from the university of Sussex found that cat's purring can be a form of manipulation. Basically, cats have figured out how to purr in a way that triggers human's parenting instincts, and inevitably gets them food.
The Most Brilliant Cat Feeder Ever Created
5: Your Cat Thinks You're too Stupid to Feed Yourself.
Cats are basically little furry murderers. They kill an estimated 3.7 billion songbirds each year alone, not to mention mice, rabbits, etc. The next time you open your door to let fluffy in from a night in the wilderness, and there is a dead creature of some kind on your doorstep -it's not a sign of affection. It's a sign that he/she thinks you are too weak, stupid, or inexperienced to gather your own food. They teach their kittens how to hunt in exactly the same way. Basically, they want you to join their "bird-murder-palooza", but they don't think you can handle it.
Now, as I said before: this article is based in science, and if you look, I've included links to the research. This is to keep all the crazy cat people from going nuts. Either way, I think we can all still enjoy cat videos on the internet.