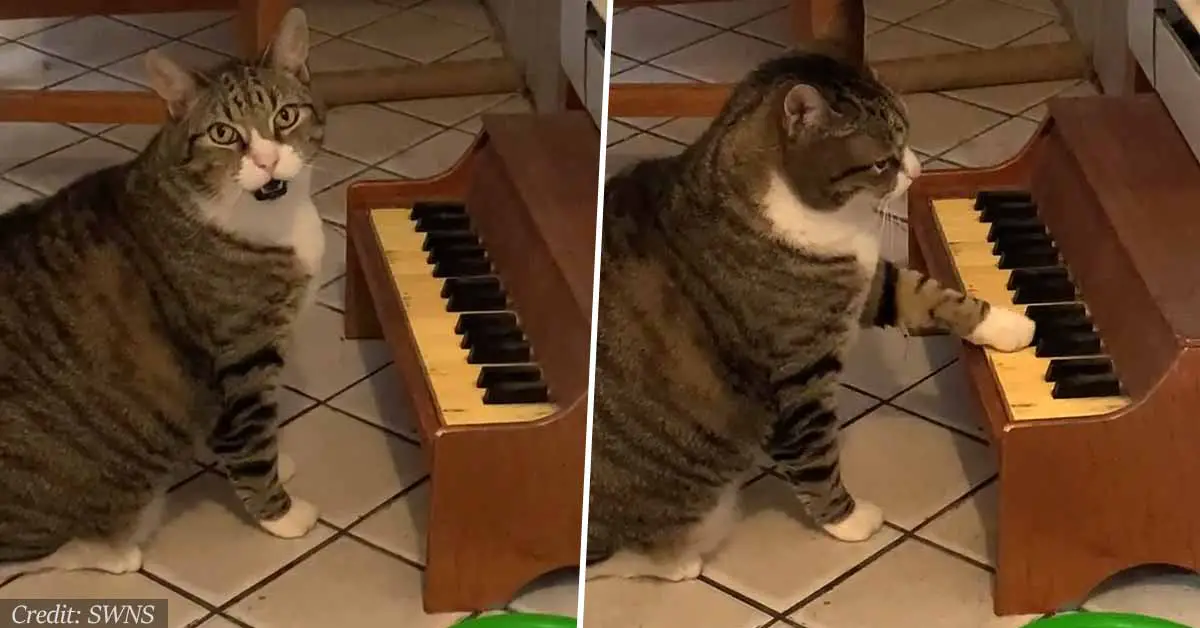 Cat Has Little Piano Which He Plays When He's Hungry
This hungry kitty has found the best way to get what it wants from its owner.
The wonder cat has a little piano, which he plays anytime he's hungry.
In a social media video, the 7-year-old furball called Winslow responds with a hungry "meow" when asked, "When is dinner time?"
The Philadelphia cat was first introduced to the piano a number of years ago when his owner decided to find a way to settle him down when he was misbehaving – and this included making weird loud noises. 
Musician Kate Nyx, the cat's owner, said:
"He used to run around screaming all the time and I was like, 'this is no good'".
And the piano seemed to be doing a great job.
"The piano is another way to communicate so he's not screaming bloody murder.

"He was a rambunctious kitten and he's transformed into a chaotic gentleman."
Winslow was adopted when he was 8-weeks-old after he was left behind in a back garden, where he was found trying to fight with a dog. 
"He was scarred up, covered in dirt, we had to teach him how to eat dry food and he had a serious case of ringworm," Kate said.
Kate bought the mini piano on eBay years ago and had kept it at home ever since.
And when her cat was still a baby, he developed a curiosity for it.
"He would play the notes and look underneath trying to find where they were coming from," the owner said.
But ever since, it turned into more than just a toy. 
"It became some kind of hunting reward because he can't do much in the apartment. He tends to only play it when we're in the kitchen and he knows he can possible get a snack."
The furry musician has also taught himself to repress the keys when he wants his litter tray to be renewed, or when he wants something as simple as a chin scritch.
"He uses the piano to express himself in general, for attention, to get his litter scooped," Kate said. "It's his alarm system in general".

"He learned that I encourage moving his paws up and down the keyboard, so he does that when he really wants something."
Ever since he became an internet sensation, Winslow has released his magnum opus, 'Bean Gotta Scream', which was released on 7 August via stream. You can check it out for yourself here.
See Winslow's video by clicking below.
Dinner time is 2 hours from now pic.twitter.com/apG7l19uRD

— Kate Nyx 🚨ACAB🚨 (@IAmKateNyx) August 4, 2020
What are your thoughts on Winslow, the musician cat? Let us know by joining the conversation in the comments and please share this article if you've enjoyed it.