Britney Spears: "This conservatorship killed my dreams."
Britney Spears used her Instagram account to criticize the "people closest" to her, including her sister Jamie Lynn, for supporting her publicly only to preserve their reputation. 
The star claimed her father, Jamie Spears, was mainly responsible for her refusing to perform on stage. 
Britney has recently asked an LA judge to investigate her father and charge him with conservatorship abuse.
Britney Spears has recently used her official Instagram account to slam "the people closest to her" for their fake support.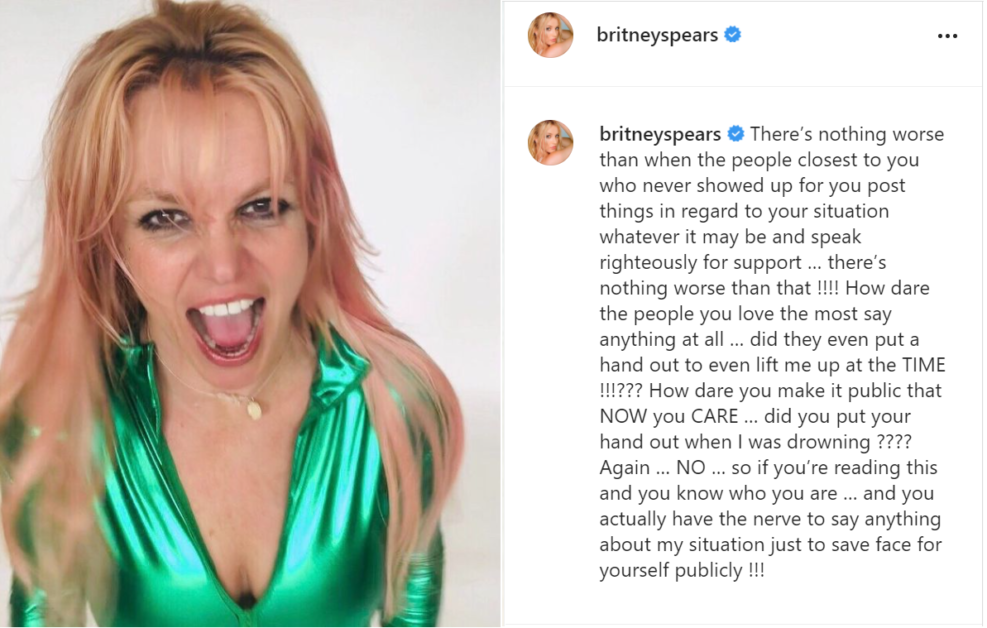 In two emotional posts, the 39-year-old pop icon bashed her father Jamie Spears and her younger sister Jamie Lynn. What's more, she restated that she would not be performing again until her father is removed from his position as her conservator, Daily Mail reports.
One of Britney's lengthy posts claims that her father, Jamie Spears, is the main reason why her fans could only see her performing on IG and not on live concerts.
This statement was related to the hate she has been receiving regarding her dancing videos. In the post, the superstar writes:
"For those of you who choose to criticize my dancing videos … look I'm not gonna be performing on any stages anytime soon with my dad handling what I wear, say, do, or think 🚫🙅🏼‍♀️ 🚫!!!!

I've done that for the past 13 years … I'd much rather share videos YES from my living room instead of onstage in Vegas."
The iconic singer revealed that she has been forced to perform remixes of her old songs and denied putting new songs on her shows. 
Spears continued:
"And no I'm not gonna put on heavy makeup and try try try on stage again and not be able to do the real deal with remixes of my songs for years and begging to put my new music in my show for MY fans …

So I quit !!!!"
She then shocked her millions of followers by directly attacking her sister Jamie Lynn, who had previously spoken out in support of Britney. In her publication, alongside a picture of the words "Take me as I am or kiss my a** eat s*it and step on legos," Spears said:
"I don't like that my sister showed up at an awards show and performed MY SONGS to remixes !!!!! My so-called support system hurt me deeply !!!! This conservatorship killed my dreams."
She added:
"Hope is all I have right now."
Britney also lashed out at the "people closest" to her for failing to help her when she needed them the most. 
In the other publication, which was posted a day before, the star wrote:
"There's nothing worse than when the people closest to you who never showed up for you post things in regard to your situation whatever it may be and speak righteously for support."
Despite not revealing the names of the people she refers to, Britney said: "you know who you are."  Based on the following post, she was probably addressing her father and her younger sister. The quote she used this time reads:
"Never forget who ignored you when you needed them and who helped you before you even had to ask."
 

View this post on Instagram

 
Spears claimed her closest people only supported her publicly to save their reputation. 
Addressing her words to them, she wrote:
"How dare you make it public that NOW you CARE … did you put your hand out when I was drowning ???? Again … NO … so if you're reading this and you know who you are … and you actually have the nerve to say anything about my situation just to save face for yourself publicly !!! If you're gonna post something …. Please stop with the righteous approach when you're so far from righteous it's not even funny."
Despite the rage she has expressed for those who disappointed her, she ended her message with words of encouragement for her fans: 
"PS if you're reading this today and you can relate …. I'm sorry because I know what it's like … and I send you my love 💋💋💋 !!!!"
On June 23, the singer made a formal request in a bid to put an end to her conservatorship. She asked a judge to end her father's control over her life. Unfortunately, Britney's appeal to remove Jamie Spears as her conservator was denied.
But last week, she posted a video of herself joyfully horse riding and cartwheeling, hours after telling an LA court that she wants her father charged with conservatorship abuse. This took place at a hearing, in which a judge agreed to her appointing her own lawyer to bring about an end to the arrangement.
Today, the judge in Britney Spears's conservatorship case may review issues including Spears's dad's role and whether her attorney can resign. His petition to resign—and Spears's manager's—followed @jiatolentino's and my investigation. Read it to catch up: https://t.co/eFbljZJ3tY

— Ronan Farrow (@RonanFarrow) July 14, 2021