Could Boredom Literally be Killing You?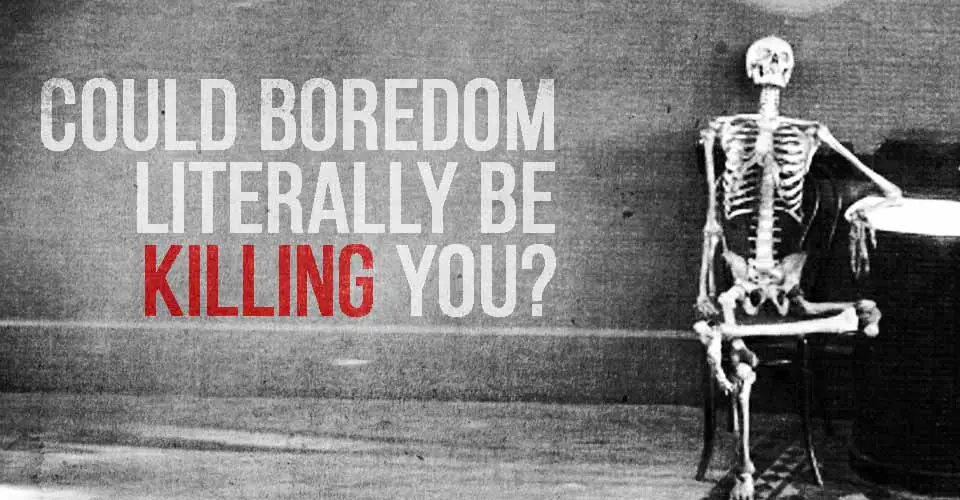 According to Wijnand van Tilburg, a psychologist at the University of Southampton, "Even though boredom is very common, there is a lack of knowledge about it. There hasn't been much research about how it affects people on an everyday basis."
With the advent of mobile electronics and a seemingly boundless internet connection, one would think that "boredom" as we usually think about it would be almost impossible. I mean, how can you be bored if you have an endless facebook or twitter feed to scroll through? That's the thing, though – what defines boredom? Is it just a lack of "something to do" or is it something deeper?
Buy an "Intelligence is sexy" t-shirt!
As far as psychology goes, there isn't a go-to definition of boredom. Psychologist John Eastwood, Ph.D., of York University in Toronto conducted interviews with hundreds of people and determined that based on his research, boredom is not a lack of something to do it is a lack of mental engagement. Boredom is when someone want to connect with their surroundings, but is unable to. Eastwood described what he called an "unengaged mind" in Perspectives on Psychological Science by saying, "In a nutshell, it boiled down to boredom being the unfulfilled desire for satisfying activity." Keyword there being "satisfying". What was really interesting about Eastwood's findings was that boredom was the source of both lethargy and agitation. For some people being bored makes them tired and lazy, while in other people it made them almost manic.
One of Eastwood's colleagues, James Danckert, Ph.D., a professor of cognitive neuroscience at the University of Waterloo, found that there were very high correlations between boredom and depression. According to Danckert, on the surface boredom and depression can easily look like the same condition, but "they're not the same emotional experience." Boredom is definitely a risk factor for depression, though. Eastwood pointed out that "when people are bored, they're disengaged from satisfying activity and more likely to become internally focused in a negative, ruminative cycle."
Read: The Simple Bedtime Habit that Could Literally be Killing You
Eastwood also found that people with alexithymia, which is a condition where people have an inability to identify and describe their emotions, are more prone to boredom. He says, "Feelings are like compass points that help orient us. If we lack emotional awareness, we lack the capacity to select appropriate targets for engagement with the world." Again, this is another precursor for depression being caused by boredom.
But can boredom really kill you, as the phrase "bored to death" implies? In 1985, a study of British civil servants was started. Each person answered questions including some questions about boredom. 20 years later, Annie Britton, Ph.D., and Martin Shipley, Ph.D., compared the civil servant's questionnaire responses with death records. What they found was that people who claimed to experience above average levels of boredom were more likely to die young. The general idea is that people who experience boredom are more likely to engage in risk-taking activities and vices like drinking or drugs to offset their boredom. Eastwood also points out that, depending on what you are doing, boredom can have a more serious impact because of boredom's effects on performance. "We know when people are bored they're more likely to make performance errors and likely to not be as productive," he says. "That's a big deal if you're an air-traffic controller or you're monitoring a nuclear plant."
Read: This Video Shows How Social Media Is Killing Your Relationship
But, then again, sometimes a little boredom is exactly what we need. Dr. Van Tilberg did a study where he made people perform boring tasks and then engaged them in a meaningful task. The participants of the study showed much higher interest in what they were doing after periods of boredom. "Boredom signals what you're doing right now seems to be lacking purpose," he explains. "As soon as you offer people alternative behaviors that may give them a sense of purpose, they're more eager to engage." If boredom is defined as an "unengaged mind", maybe the cause could be part of the solution? Short periods of boredom followed by periods of focus are not unheard of. I think that with the constant stimuli we are all surrounded with every day, stepping away from the internet and our smartphones could be just the answer to re-engaging our brains in whatever it is we are doing.