Man claims woman refused to sell her BMW to him because he is black and hurled racist abuse at him
A Black man allegedly couldn't buy a car because of a racist seller. 
Michael Josephs, a 32-year-old father from Colindale, North London, was trying to buy a car from Facebook's Marketplace when he stumbled upon a racist seller.
As Daily Mail reveals, the man had his eyes on a £1,500($2,000) BMW 3. Last Wednesday, when he contacted the seller, known as Sophie, her response got him beyond disturbed.
In a screenshot Michael made during their conversation, he can be seen asking whether the car was still available. But instead of a direct answer to his question, all he got was an "on man" response. This completely confused the man, so he decided to ask if this was a "no." However, the following answer was even more bothersome: "suck you[r] mum black s***."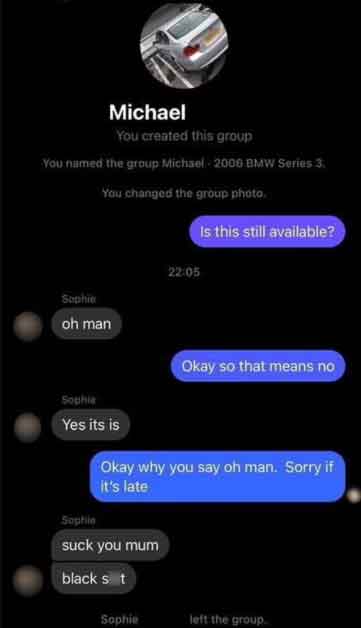 The next morning, after Michael posted the screenshots in a Facebook group, Sophie was bombarded by messages saying: "There's no room for racism."
Following the wave of texts slamming her for the way she treated Michael, Sophie messaged him again, blaming her ex for the racist words. In the message, she explained that her former partner knows her password and he was the one behind the racism-infused text. However, the 32-year-old electrician didn't believe her excuse.
He commented:
"Her first message was weird. I thought maybe I'd messaged too late at night so I apologised for that. It was all completely out of the blue. I just wanted to see if I could have a look at the car. It was cheap and I was looking for a bargain. I've already got a car but I thought I could pick it up and maybe sell it on. 

When I saw the [racist] message, I just thought 'really?'. Did I really just see that? It's just a small-minded mentality to have. I just thought, 'are people really still racist after this year?'."
Michael shares he wanted to "expose" the racist seller to the community.
He continued:
"I wanted to show that this isn't acceptable and that [racism] still goes on really blatantly like this. This person was from London and they weren't white themselves, so it's even stranger that she might have faced abuse like this but she's giving it out herself. 

The car group I put it in is a savage place but there's so many people in it, so I thought I'd put it in, but people were commenting that we shouldn't stand for racism. It was nice to see a usually-horrible group of people actually stand up for something and it shows that people do care. It restored my faith in humanity a bit. They saw this person had crossed a line. 

If it was her ex on her phone, when she saw [the racist message] you'd have thought she'd write an apology, but because she was getting abuse she just made up a story. I don't buy it at all."
The social media response Michael's case got was overwhelming. One user wrote:
"Calling someone a black s***? You've f***** up. Racism has no place! Think before you speak next time."
Meanwhile, another member of the c ar Facebook group claimed to have contacted Sophie's mother, asking her to "have a word" with her racist daughter. The poor mom, who said she hadn't seen Sophie for almost two years, said:
"I'm sorry she's so rude. I didn't bring her up that way, but I don't have nothing [sic] to do with her anymore."