You Will Be Missed Professor Snape: 15 of the Greatest Alan Rickman Quotes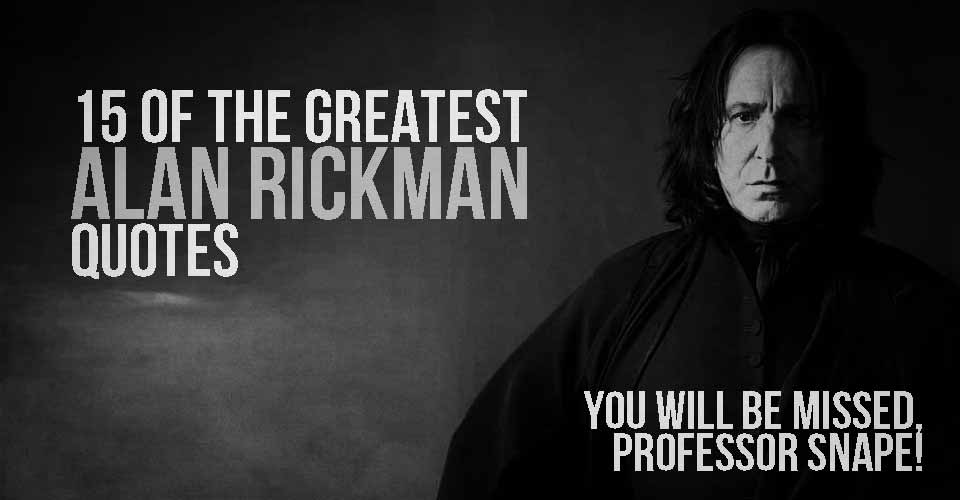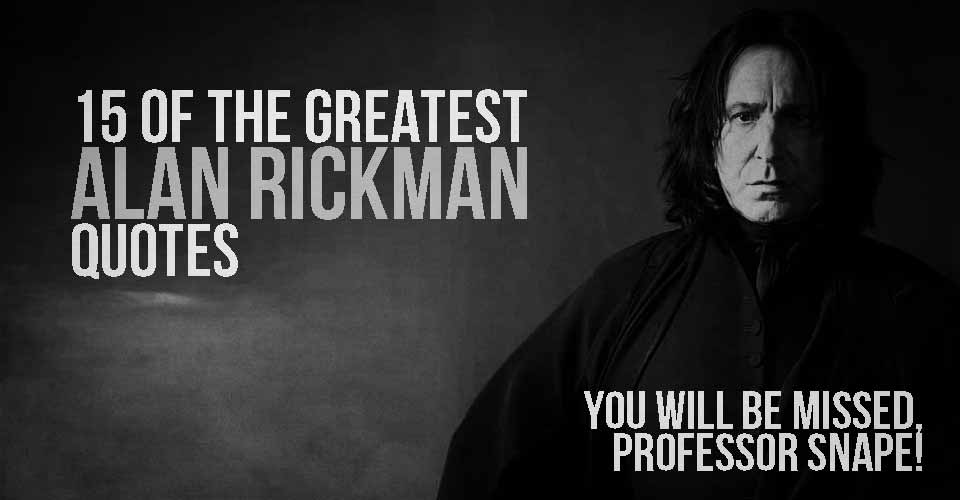 So far 2016 has been a rough year for the entertainment industry. First we lost the beautiful, amazing, groundbreaking talent of David Bowie, and now I was saddened again to hear of the Passing of Alan Rickman. Rickman's presence on the screen was both intense and eloquent no matter what the role. In recent history, he was best known for his role as the venerable Professor Snape in the Harry Potter series but his characters have graced some of the greatest movies of our time. Let's face it, Rickman made an amazing villain. From his role as the Sheriff of Nottingham in Robin Hood to Hans Gruber in Die Hard, Rickman had this amazing ability to convey menace, while still being believable enough to not sound like a comic book bad guy. Every great hero needs a great villain. Hell, even Rickman himself said, "I am the character you are not supposed to like."
Buy an "Intelligence is sexy" t-shirt!
My favorite Rickman characters were always when he seemed to just be himself, like when he played the Archangel Gabriel in Dogma. Even the roles where he was never on screen, like in Hitchhiker's Guide to the Galaxy, were amazing. Alan Rickman was a consummate professional, amazing personality, and cinematic icon. You will be missed, Professor. Dearly. Here is a collection of my favorite Rickman quips:
"Actors are agents of change. A film, a piece of theater, a piece of music, or a book can make a difference. It can change the world."
"If only life could be a little more tender and art a little more robust."
"Acting touches nerves you have absolutely no control over."
"Maverick is a word which appeals to me more than misfit. Maverick is active, misfit is passive."
"And it's a human need to be told stories. The more we're governed by idiots and have no control over our destinies, the more we need to tell stories to each other about who we are, why we are, where we come from, and what might be possible."
"If people want to know who I am, it is all in the work."
"Three children have become adults since a phone call with Jo Rowling, containing one small clue, persuaded me that there was more to Snape than an unchanging costume and that even though only three of the books were out at that time, she held the entire massive but delicate narrative in the surest of hands."
"I think there should be laughs in everything. Sometimes, it's a slammed door, a pie in the face or just a recognition of our frailties."
"I've never been able to plan my life. I just lurch from indecision to indecision."
Read: The Power of Myth: 25 Quotes from Joseph Campbell
"The more we're governed by idiots and have no control over our destinies, the more we need to tell stories to each other about who we are, why we are, where we come from, and what might be possible. Or, what's impossible? What's a fantasy?"
"I think there's some connection between absolute discipline and absolute freedom."
"It would be wonderful to think that the future is unknown and sort of surprising."
"I suppose with any good writing and interesting characters, you can have that awfully overused word: a journey."
"Talent is an accident of genes – and a responsibility."