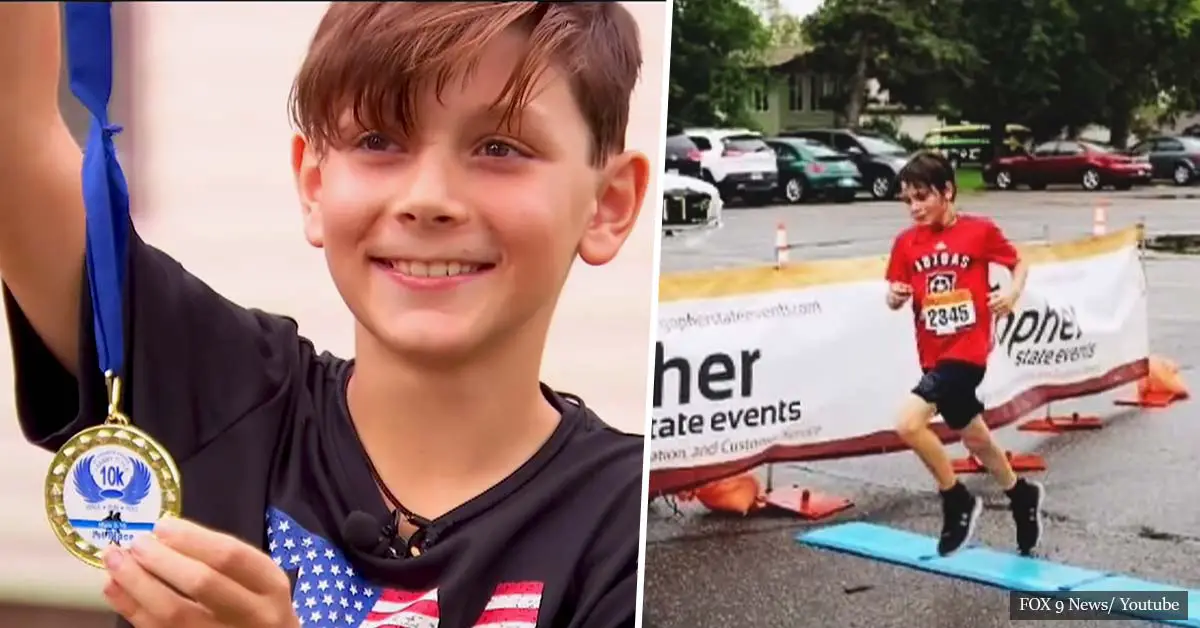 9-year-old boy takes wrong turn on 5K race, wins 10K race instead
Last month in Minnesota, a 9-year-old boy won a 10K race by mistake.
He was initially running a 5K race, but he took a wrong turn and ended up on the much longer course.
Kade Lovell, the 9-year-old boy wonder, started off running the St. Francis Franny Flyer 5K, in Sartell, Minnesota.
For an interview with St. Cloud Times, Kade said that when he saw the 5K turn, a lady told him to keep running straight, so he did. 
"I was just running. As soon as I saw the 5K turn, a lady told me to keep going straight. So I kept going straight. I was a little confused."
Lovell's mother, Heather, got concerned when her son didn't cross the finish line of the 5K race. At first, she thought her boy is just having an off day. After she saw a few kids that, according to her, were slower than Kade, she started driving along the 5K route looking for him. As a mother, she got worried that something bad might have happened to her child.
"I had everyone looking for him, even a fireman… I was bawling. This had never happened before."
While Heather was looking for her son, another spectator called her brother-in-law, who was running the 10K race. He told him that there was a "little kid who was running really well." They thought that Kade was probably supposed to run the 10K, or he missed the turn on purpose.
Eventually, Kade Lovell crossed the 10K finish line, but he was all alone.
His mother thought that he was in the last place of the race. Surprisingly, race organizers told her he finished in first place. She assumed they meant in his age group, but he was actually first place overall. Kade finished the race in just over 48 minutes. This was a minute faster than the 40-year-old woman who ended up in second place. The average age of the top 10 finishers of the 10K race was 38, which made Kade the youngest winner.
The wonderboy was running ever since he was little, according to his mother. After his unforeseen win, Kade ran another 5K race sponsored by the Jacob Wetterling Resource Center — which he also ended up winning. He is now practicing with a special running coach and has already competed in the Junior Olympics with plans to compete again in Wisconsin this year.