24-Year-Old Mom Has 22 Children And Wants At Least 100
A 24-year-old mother has helped give life to 22 children and she wants even more. 
Russian-born Kristina Ozturk gave birth to her first child when she was 17-years-old, and two years later she became the mother of 21 more, as per Daily Mail.
After meeting her 57-year-old millionaire husband, Galip, on a holiday in Georgia, which was the first time she went abroad, the couple quickly made plans to have a big family.
They now live in Batumi and have 16 nannies who help them care for all the children.
Kristina, now 24, says they've paid around £138,000 to surrogates to deliver her babies, which have all arrived in less than two years.
In an interview with Fabulous, she said:
"I've dreamed about this since childhood. My husband also dreamed about having a big, happy family.

"So after we met, we started to put our dream into action.

"Our romantic relationship has changed but then our whole lives have changed, not just the romantic part. I'm not sure if we will be the biggest family in the world, but we are planning to be the happiest family in the world for sure."
Kristina says she doesn't regret the choices she made at all and cannot wait to see how many more children she could bring to the family.
And the whole experience surely doesn't come for free…
She went on to say:
"It costs about £3,500 to £4,200 per week for essentials for all the kids. Sometimes [the costs are] a little more, sometimes a bit less."
The live-in nannies are normally paid around £350 weekly.
She added:
"For now we have three floors at home. In the future, maybe we will build more floors, maybe we will buy a bigger house.

"We don't have an exact plan, because right now we have enough space for everybody."
At first, the couple was planning to have 1 child per year but later realized that this might not be achievable so they decided to go the surrogate way.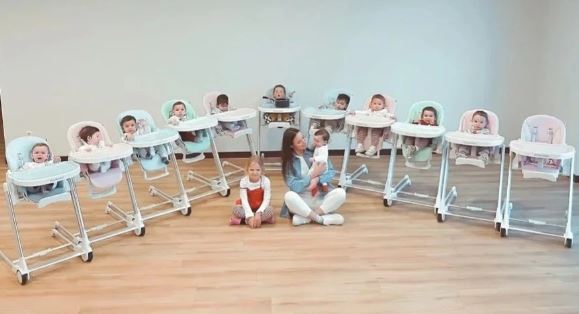 And considering how much easier this would be, they eventually decided to see how many children they could actually fit in over their lifetime.
Kristina said:
"The clinic in Batumi chooses surrogate mothers for us and takes full responsibility for the process.

"We are not personally acquainted with surrogate mothers and do not have direct contacts with them in order to avoid problems after pregnancy."
According to her Instagram page, Kristina wants to have more than 100 children in her lifetime…
What are your thoughts on this story? Let us know by joining the conversation in the comments and please share this article if you've enjoyed the read.