There I was, sifting through wireless signal boosters, antennas, wi-fi repeaters, and any other piece of gadgetry that could get my W-Fi signal from where my internet company wired my router into the house, and my office. The problem seems to be that the router and my office are as far away from each other in this floorplan as is possible. My phone didn't even pick up Wi-Fi in my office. Then it occurred to me: "I'm sure there is a lifehack for this."
Buy an "Intelligence is sexy" t-shirt!
Sure enough, there is. Ladies and gentlemen, I give you The Windsurfer:
Over at FreeAntennas.com, you can download the template and make your own little parabolic reflector with nothing but paper and foil. At first, I thought that there was no way this could work, it was way too simple. Well, I was wrong:
Here are my Wi-Fi signal strengths before: I made my first set of windsurfers. The first set was resized to fit 2 full templates on one sheet of 8.5″ X 11″ paper:

I completed my first set, and actually saw some improvements. I adjusted them, tweaked them, and even completely flipped one around to have the foil facing forward. I saw improvement, but it wasn't as mind-blowing as I thought it would be:

So I did what any man would do, I doubled the size of my Windsurfers (original is on the right):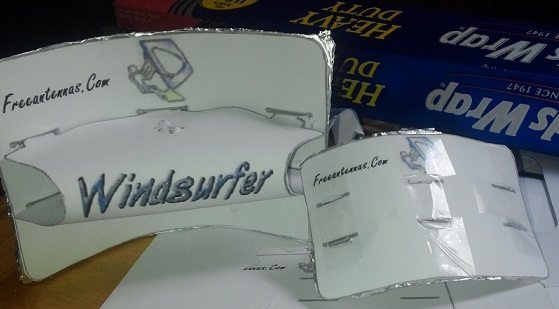 The results were amazing…

I'm not selling anything here, so if it didn't work, I wouldn't take the time to post this. Not only did these simple handmade reflectors improve my signal strength, they improved the quality. I don't see speed fluctuations or drop Wi-Fi signal like I used to. If you have trouble with your Wi-Fi signal like I used to, you owe these a shot. It really is as simple as printing out the templates, cutting them out, and assembling them.
Read: Can Wi-Fi or Cellphones Cause Cancer?
A couple of tips:
– In my case, I used tape instead of glue because it was easier to work with.
– I used 4 layers of paper because I didn't have cardstock, and it held up just fine.
– Cut the tabs on the middle piece longer, it makes putting everything together easier.
You can download the templates HERE